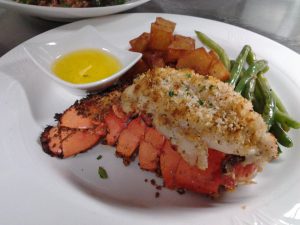 S T A R T E R S

Flash Fried Pacific Calamari
Roasted Red Chile, Honey Glaze
9.5
***
Grilled Lamb Rack Chops & Israeli Pearl Cous-Cous
Caramelized Roasted Garlic & Shallots with Fresh Herbs in basil Oil
12.5
***
Fanny Bay Pan-Fried Oysters
Cajun Lemon Cream, Hilary's Goat Cheese & Basil Oil
11
***
Golden Fried Coconut Prawn Kebobs
Mardis Gras Marmalade
12
***
Louisiana Escargot Sauté & Garlic Foccacia
Cajun Spices, Garlic Butter, Button Mushrooms, Tomatoes, Fresh Basil & Hillary's Goat Cheese
9.5
***
S O U P
Chef's Daily Soup
Today's Inspiration in a Bowl
6
Traditional Baked French Onion
Kettle Simmered Veal Broth & Golden Brown Smoked Provolone
6
***
S A L A D

Steeples Traditional Caesar Salad
Prepared Tableside for Two or More
11.5 Per Person
Add Three Jumbo Grilled Lemon Pepper Prawns 7.5
Spinach Salad with Grilled Pears
Hilary's Goat Feta Cheese, Candied Pecans, Orange Yogurt Dressing
9.5
House Smoked Duck Breast, Caramelized Apple & Mixed Greens
Toasted Pine Nuts & Local Saskatoon Berry Vinaigrette Dressing
12
Moroccan Spiced Prawns & Bocconcini Salad
Fresh Tomato, Marinated Fennel & Red Onion, Balsamic Glaze & Fresh Basil Oil
16
***
D I N N E R    E N T R É E S
DAILY FROM 5:00 P.M.
Your Choice of Charbroiled 10 oz Canadian AAA Rib-Eye Steak or 6oz Filet Mignon
Portobella Mushroom, Cambozola Cheese, Veal Demi-Glace, Chipole Scalloped Potatoes & Seasonal Vegetables
24
ADD TO ANY ENTRÉE
1/2 pound Alaskan King Crab Legs –

18


Grilled Lemon Pepper Prawns –

2.5 Each
Pan~Roasted 8 oz Prosciutto Wrapped Filet Mignon
Brandied Peppercorn Sauce, Chipotle Scalloped Potatoes & Seasonal Vegetables
28
Herb Encrusted Six Rack of Lamb
Roasted Shallot Demi-Glace & Honey, Dijon, Rosemary Roast Potatoes, Seasonal Vegetables
32
6 oz Filet Mignon Steak Sandwich
Grainy Dijon Aioli, Garlic Foccacia, Butter Poached Button Mushroom , Red Onion Marmalade, Roasted Shallots & French Fries
21
Israeli Pearl Cous-Cous & Arborio Rice Risotto
Creamy Fresh Herb Parmesan Cream, Seasonal Vegetables & Love
21
Alaskan King Crab Legs in Bamboo Steamer
Steamed in Red Curry-Kafir Lime Broth, Pickled Ginger Butter & Seasonal Aaian Vegetables
C H E F' S   D A I L Y   F E A T U R E S   F R E S H   
S H E E T
A COLLABORATION OF CHEFS STEVE, JOE DUPREY & DARREN COLE. ONLY THE FRESHEST LOCAL AND GOURMET INGREDIENTS ARE USED TO CREATE OUR DAILY FEATURED MENU ITEMS BELOW.
Fresh Wild Fish or Vancouver Island Seafood
Changes Daily Like the Tides
– As Quoted on Fresh Sheet
***
Cowichan Bay Pasture Raised Chicken Breast
The World Best Chicken Prepared with World Class Flair
– As Quoted on Fresh Sheet
***
Exotic Game & Fowl
Caribou, Venison, Water Buffalo, Pheasant, Ostrich or Wild Boar
– As Quoted on Fresh Sheet
***
Chef's Daily Pasta
Always Gourmet
– As Quoted on Fresh Sheet